Sivamainthan (Siva) Vithiananthan, MD, FACS, FICS
Edit My Page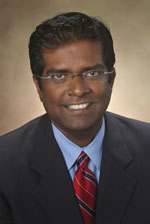 Title: Associate Professor of Surgery (Clinical)
Department: Surgery
Section: General Surgery.

SVithiananthan@lifespan.org
401-793-4545, 401-793-5140
Download Sivamainthan (Siva) Vithiananthan's Curriculum Vitae in PDF Format
Overview | Grants/Awards |
Biography
Siva Vithiananthan, MD FACS is a surgeon, board certified in general surgery and surgical critical care. He is fellowship trained in advanced laparoscopic surgery and surgical critical care. Dr. Vithiananthan's clinical focus is minimally invasive approaches to gastrointestinal diseases and bariatric(weight loss and metabolic) surgery. Metabolic and physiologic effects of weight loss surgery and advanced surgical techniques and outcomes in bariatric surgery are his main areas of research interest.
Dr. Vithiananthan is the Site-Director of Surgical Education at The Miriam Hospital. He is also the Director of the Center for Bariatric Surgery at the Rhode Island Hospital and The Miriam Hospital.
Awards
2010 Dean's Teaching Excellence Award
Alpert Medical School of Brown University
2007 Outstanding Attending of the Year Presented by Department Surgery House Staff, Winthrop University Hospital/ Stony Brook Integrated Residency
2007 Outstanding Teaching Award Presented by Class of 2007, SUNY at Stony Brook School of Medicine
2006 Aesculapius Award for Teaching: Highest award for teaching awarded by the Dean of the Medical School at SUNY at Stony Brook School of Medicine
2005 Outstanding Teaching Award Presented by Class of 2005, SUNY at Stony Brook School of Medicine
2005 Empires Who's Who Listing 2005
2003 Excellence in Teaching Award Presented by Class of 2003, SUNY at Stony Brook School of Medicine
2003 Certificate of Appreciation for Contributions to Teaching, SUNY at Stony Brook School of Medicine
2003 Listed in Strathmore's Who's Who 2003
2002 Listed, America's Top Surgeons, Consumers' Research Council of America
Affiliations
2008-present Association for Academic Surgery
2008-present International College of Surgeons
Membership Committee 2008- 2009
Assistant Secretary 2009- present
2003- present Brooklyn- Long Island Chapter of the American College of Surgeons
Representative (Alternate) to New York State EMS/
Trauma Committee 8/03
Co-Chair, Young Surgeons Committee 2006-2007
2000- present American College of Surgeons, Fellow

2000- present John Jones Society
1999- present Society of American Gastrointestinal Endoscopic Surgeons (SAGES)
Resident Education Committee 2001-2, 2002-3
Membership/International Committee 2002-3,
Membership Committee 2003-present
NY State Membership Drive Liaison 2006-2007
Continuing Education Committee 2003-4
1999- present American Society of Metabolic and Bariatric Surgery
Program Committee 2009-2011
1999- present International Federation of the Surgery of Obesity
1999- present PEEP Society
1998-2000 Chest, affiliate
1998-2002, 2006 Society of Critical Care Medicine