Judith Bender, B.S., Ph.D.
Edit My Page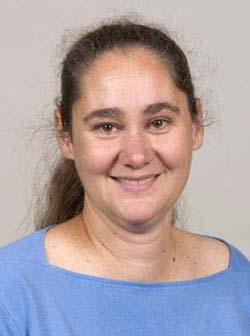 Title: Professor of Biology
Department: Molecular Biology, Cell Biology, & Biochemistry
Judith_Bender@brown.edu
+1 401 863 6238
Overview | Research | Grants/Awards | Teaching | Publications
Judith Bender studies gene regulation mechanisms using the plant Arabidopsis thaliana as a model organism. A major research focus is gene silencing, a process where gene expression is blocked by making DNA inaccessible to activating factors. In plants and animals silencing is critical for normal development and for protecting the genome from the spread of invasive parasitic DNA sequences. The Bender laboratory is particularly interested in how silencing is accurately targeted.
Biography
Judith Bender is a molecular geneticist who uses the laboratory plant Arabidopsis thaliana to understand basic mechanisms of gene regulation. Professor Bender began as a faculty member at Johns Hopkins University in 1995. She moved to the MCB Department of Brown University in 2007. Her research focuses on how gene expression is silenced by DNA methylation. Her work has elucidated a pathway for DNA methylation that depends on methylation of DNA-associated histone proteins. Another of her research interests is understanding how Myb proteins, a ubiquitous and highly conserved group of transcriptional regulators in plants, achieve target gene specificity. Besides providing basic insights into the evolution of Myb proteins, this work is relevant to exploiting Myb transcription factors for metabolic engineering. Professor Bender has taught courses in molecular biology and genetics.
Research Description
Judith Bender uses the laboratory plant Arabidopsis to study two aspects of gene regulation: transcriptional silencing by cytosine methylation, and activation of genes involved in plant defense responses. Both of these research areas stem from studies she conducted as a post-Doctoral researcher to understand regulation of tryptophan pathway genes in Arabidopsis. The work on gene silencing evolved from an original finding that an inverted repeat tryptophan gene duplication serves as a potent trigger for cytosine methylation targeted specifically to the duplicated sequences. The Bender laboratory is using this system to understand the signals that direct cytosine methylation to specific regions of the genome, and to characterize factors required for maintenance of methylation and transcriptional silencing. A key finding is that methylation of histone protein H3 at the lysine 9 residue is required for maintenance of cytosine methylation. The other branch of Bender laboratory research focuses on control of genes that synthesize glucosinolates, defense compounds against pathogens, insects, and herbivores that give plants in the mustard family their unique pungent flavor. A major class of glucosinolates is derived from tryptophan. The laboratory is using a key Myb transcription factor that activates the synthesis of these tryptophan-derived compounds both for basic studies on gene activation, and for applications in manipulating the glucosinolate content of plants.
Awards
Phi Beta Kappa, Radcliffe Chapter, 1982

Henderson Prize for best undergraduate thesis in Biochemistry, Harvard-Radcliffe College, 1982

National Science Foundation Graduate Fellowship, 1982-1985

Jane Coffin Childs Memorial Fund for Medical Research Postdoctoral Fellowship, 1991-1993

March of Dimes Basil O'Connor Starter Scholar Award, 1997-1998

Searle Scholars Award, 1997-2000

Elected co-organizer of 2005 Epigenetics Gordon Conference, 2001

Elected member of North American Arabidopsis Steering Committee, 2004-2008
Affiliations
Member, Genetics Society of America, 1996-present

Member, American Society of Plant Biologists, 1996-present

Grant Review Panel "Plant Genetic Mechanisms" for United States Department of Agriculture, 1998-2001 (Regular member)

Grant Review Panel "Biology-1" Post-doctoral Fellowships for National Institutes of Health, 1999 (Ad Hoc member)

Grant Review Panel "Eukaryotic Genetics" for National Science Foundation, 1999-2004 (Regular member)

Elected Member, North American Arabidopsis Steering Committee, 2004-2008

Genetics Society of American Nominating Committee, 2005

Scientific Advisory Panel Member "Maize Chromatin Project" (NSF-funded plant genome initiative) 2005-2009

Scientific Advisory Panel Ad Hoc Member "Plant-Incorporated Protectants based on Virus Coat Protein Genes" for Environmental Protection Agency, 2005

Grant Review Panel "Development-1" for National Institutes of Health, 2005 (Ad Hoc member)

"Epigenetics" Gordon Research Conference co-Chair, 2005

"17th International Conference on Arabidopsis Research" co-Organizer, 2006

Grant Review Panel "Genes, Genetics, and Genomics" Post-doctoral Fellowships for National Institutes of Health, 2006 (Ad Hoc member)

Scientific Advisory Panel "Arabidopsis Biological Resource Center," 2007-2010

Grant Review Panel "Arabidopsis 2010" for National Science Foundation, 2006 and 2007

Grant Review Panel "Molecular Genetics B" for National Institutes of Health, 2006 (Ad Hoc member in October, 2006; Regular member beginning October, 2007)

"Grand Challenges in Plant Biology" Workshop Participant, sponsored by National Science Foundation, January, 2008

Site Visit Team Member "Functional Genomics of Plant Polyploids" for National Science Foundation, November, 2008
Funded Research
a. Current Grants

National Science Foundation MCB-0517358
"Regulation of tryptophan metabolism in Arabidopsis"
Principal Investigator: J. Bender
Period of Support: 09/01/05-08/31/09

National Institutes of Health GM61148
"DNA methylation and gene silencing in Arabidopsis"
Principal Investigator: J. Bender
Period of Support: 09/01/05-08/31/09

b. Completed Grants

American Cancer Society Institutional Research Grant
"Characterization of the Myb Homologue ATR1"
Principal Investigator: J. Bender
Period of Support: 01/01/97-12/31/97

March of Dimes Basil O'Connor Starter Scholar Award FY98-0535
"Epigenetic control in Arabidopsis thaliana"
Principal Investigator: J. Bender
Period of Support: 02/01/97-01/31/99

Searle Scholars Award 97-E-103
"Molecular analysis of DNA methylation and gene silencing in Arabidopsis"
Principal Investigator: J. Bender
Period of Support: 07/01/97-6/30/00

National Science Foundation IBN-9723172
"Regulation of tryptophan genes in Arabidopsis"
Principal Investigator: J. Bender
Period of Support: 01/01/98-12/31/02

March of Dimes FY99-288
"Establishment of DNA methylation in Arabidopsis"
Principal Investigator: J. Bender
Period of Support: 06/01/99-05/31/03

National Science Foundation IBN-9975930
"Functional Genomics of Chromatin: Global Control of Plant Gene Expression"
Principal Investigator: Dr. Richard Jorgensen, University of Arizona
Role on Project: co-PI
Period of Support: 09/01/99-08/31/05

National Institutes of Health GM61148
"DNA methylation and gene silencing in Arabidopsis"
Principal Investigator: J. Bender
Period of Support: 07/01/00-06/30/05
Teaching Experience
Molecular Biology
Genetics
View My Full Publication List in pdf format
Selected Publications
Ebbs, M. L. and Bender, J. (2006). Locus-specific control of DNA methylation by the Arabidopsis SUVH5 histone methyltransferase. Plant Cell 18, 1166-1176.(2006)
Celenza, J. L., Quiel, J. A., Smolen, G. A., Merrikh, H., Silvestro, A. R., Normanly, J., and Bender, J. (2005). The Arabidopsis ATR1 Myb transcription factor controls indolic glucosinolate homeostasis. Plant Physiol. 137, 253-262.(2005)
Melquist, S. and Bender, J. (2003). Transcription from an upstream promoter controls methylation signaling from an inverted repeat of endogenous genes in Arabidopsis. Genes Dev. 17, 2036-2047.(2003)
Malagnac, F., Bartee, L., and Bender, J. (2002). An Arabidopsis SET domain protein required from maintenance but not establishment of DNA methylation. EMBO J. 21, 6842-6852.(2002)
Smolen, G. and Bender, J. (2002). Arabidopsis cytochrome P450 cyp83B1 mutations activate the tryptophan biosynthetic pathway. Genetics 160, 323-332.(2002)
Smolen, G. A., Pawlowski, L., Wilensky, S. E., and Bender, J. (2002). Dominant alleles of the basic helix-loop-helix transcription factor ATR2 activate stress-responsive genes in Arabidopsis. Genetics 161, 1235-1246.(2002)
Bartee, L., Malagnac, F., and Bender, J. (2001). Arabidopsis cmt3 chromomethylase mutations block non-CG methylation and silencing of an endogenous gene. Genes Dev. 15, 1753-1758.(2001)
Luff, B., Pawlowski, L., and Bender, J. (1999). An inverted repeat triggers de novo methylation of identical sequences in Arabidopsis. Mol. Cell 3, 505-511.(1999)
Bender, J. and Fink, G. R. (1998). A Myb homologue, ATR1, activates tryptophan gene expression in Arabidopsis. Proc. Natl. Acad. Sci. USA 95, 5655-5660.(1998)
Bender, J. and Fink, G. R. (1995). Epigenetic control of an endogenous gene family is revealed by a new blue fluorescent mutant of Arabidopsis. Cell 83, 725-734.(1995)
Bender, J. and Kleckner, N. (1992). IS10 transposase mutations that specifically alter target site recognition. EMBO J. 11, 741-750.(1992)
Bender, J. and Kleckner, N. (1986). Genetic Evidence that Tn10 Transposes by a Nonreplicative Mechanism. Cell 45, 801-815.(1986)