Qian Chen, PhD
Edit My Page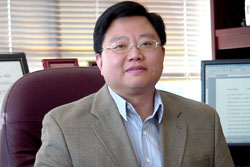 Title: Michael G. Ehrlich, MD Professor of Orthopaedic Research
Department: Orthopaedics
Qian_Chen@Brown.EDU
+1 401 444 5676, +1 401 444 6604
Overview | Research | Grants/Awards | Publications
Professor of Medical Science Qian Chen studies the development and aging of joint cartilage. His research on cartilage cells and extracellular matrix– proteins that support tissue architecture– examines how the mutations in these proteins lead to skeleton malformation and joint degeneration. He also studies how skeletal development and aging are affected by mechanical factors. By studying these mechanisms, he hopes to develop therapies against osteoarthritis, and repair damaged cartilage.
Biography
Brief Bio
Dr. Chen received BS in Biochemistry from Fudan University in China and PhD in Cell, Molecular, and Developmental Biology from Tufts University School of Medicine. He completed his post-doctoral fellowship at Harvard Medical School and Massachusetts General Hospital. He was a tenured Associate Professor at Penn State College of Medicine before joining Brown University in 2002. Currently, Dr. Chen is Michael G. Ehrlich Endowed Chair in Orthopaedic Research and Head of Orthopedic Biology. Dr. Chen received the Independent Scientist Award from the National Institute of Health, the Satterfield Arthritis Investigator Award from the Arthitis Foundation, and the Kappa Delta Investigator Award from the American Academy of Orthopaedic Surgeons. He serves on multiple NIH study sections and advisory groups. His research interest includes cartilage molecular biology, mechanotransduction, and osteoarthritis.

Institutions
RIH
Research Description
The research focus in our laboratory is skeletal development, fracture healing, and cartilage & bone repair. In one area, we are studying how mechanical stress regulates bone growth and regeneration. People have known that mechanical stress plays an important part in maintaining bone health. For example, regular exercise that exerts appropriate loading to the joint enhances bone mass, while too little loading (such as what astronauts experience in outer space under zero gravity) or too much loading (such as what occurs during sports injuries) damages or diminishes bone formation. If we understand the underlying mechanism, we can apply our knowledge to improving joint health in daily life and accelerate bone repair and rehabilitation after fracture. This exciting research project is supported by National Institute of Health. We discovered important biochemical molecules in the joint that mediate mechanical stimulation of bone formation.

In the second area, the laboratory is focusing on how to improve early diagnosis and joint repair during arthritis. Arthritis is one of the leading causes of disability in America. Very often when patients feel joint pain and are diagnosed by X-ray, the joint cartilage is beyond repair and has to be replaced by artificial joint. We are developing new "bio-markers" to diagnose arthritis at early stages. In addition, we are determining the function of newly discovered structural matrix proteins that form the framework of joint cartilage, with the hope that these "glue-like" proteins can be used to repair damaged cartilage in the clinics in future. These research projects are supported by Arthritis Foundation and National Institute of Health.

For his accomplishment in research leading to prevention and early treatment of arthritis and other joint diseases, Dr. Chen has been awarded Kappa Delta Award from American Academy of Orthopaedic Surgeons, Satterfield Arthritis Investigator Award from Arthritis Foundation, and Independent Scientist Award from National Institute of Health.
Awards
1994-1996 Postdoctoral Fellowship, Arthritis Foundation, Atlanta, GA
1995 Outstanding Research Presentation Award, 15th Annual East Coast Connective Tissue Society Meeting, Piscataway, NJ
1997-1999 Arthritis Investigator Award (J.V. Satterfield Award), Arthritis Foundation, Atlanta, GA
1997-2002 The FIRST Award, National Institute on Aging, NIH, Bethesda, MD
1997 New Investigator Recognition Award, Orthopaedic Research Society, Chicago, IL
1999 Novartis Foundation Bursary, London, UK
1998-2003 Independent Scientist Award, NIH (PHS-Research Career Development Award), Bethesda, MD
2000 Kappa Delta Young Investigator Award, American Academy of Orthopaedic Surgeons
2001 Hinkle Society Award, Hershey, PA
2002- Michael G. Ehrlich Chair in Orthopaedic Research, Brown Medical School, Providence, RI
Affiliations
American Association for the Advancement of Science
American Society for Bone and Mineral Research
The American Society for Cell Biology
The New York Academy of Sciences
Orthopaedic Research Society
Osteoarthritis Society International
American Society of Matrix Biology
International Chinese Hard Tissue Society
Funded Research
Ongoing Research Support
PHS RO1 AG 14399 Chen (PI) 01/01/04-12/31/08
NIH/NIA. Total Direct Cost: $1,125,000
Stabilization of Matrix Structure in Mature Cartilage
The goal of this project is to analyze the mechanisms that stabilize cartilage matrix structure
Role: PI

PHS RO1 AG17021 Chen (PI) 03/15/06-02/28/11
NIH/NIA. Total Direct Cost: $922,500
Biophysical Regulation of Chondrocyte Differentiation
The major goals of this project are to study the effect of mechanical stress on chondrocyte properties
Role: PI


RO3 AR 052479 (Wei) 04/01/06-03/31/09
NIH/NIAMS Total Direct Cost: $150,000
Chemokine Regulation of Cartilage Matrix Resorption
The goal of this project is to examine the effect of chemokines on cartilage matrix degradation.
Role: Co-PI

1 P20 RR024484-01 Chen (PI) 09/01/07-07/31/12
NIH/NCRR Total Direct Cost: $7,539,629
Center of Biomedical Research Excellence in Skeletal Health and Repair
The goal of this project is to establish a multi-disciplinary research center to treat cartilage joint diseases.
Role: PI



Completed Research Support
PHS 7R29 AG 14399 Chen (PI) 04/15/97-09/30/03
NIH/NIA. Total Direct Cost: $450,000
Stabilization of Matrix Structure in Mature Cartilage
Role: PI

Biomedical Research Grant Chen (PI) 01/01/02-12/31/04
Arthritis Foundation Total Direct Cost: $ 270,000
Matrilins: Mechanisms Governing Cell-Matrix Adhesions in Cartilage
Role: PI

PHS K02 AG00811 Chen (PI) 08/01/98-07/31/04
NIH/NIA Total Direct Cost: $ 456,094
Stabilization of Matrix Structure in Mature Cartilage
Role: PI

PHS 7RO1 AG17021 Chen (PI) 09/01/98-08/31/05
NIH/NIA. Total Direct Cost: $917,534
Biophysical Regulation of Chondrocyte Differentiation
The major goals of this project are to study the effect of mechanical stress on chondrocyte properties
Role: PI
View My Full Publication List in pdf format
Selected Publications
van der Weyden, L., Wei, L, Luo, J., Yang, X., Birk, D. E., Adams, D. J., Bradley, A., and Chen, Q. Functional knockout of the matrilin-3 gene causes premature chondrocyte maturation to hypertrophy and increases bone mineral density and osteoarthritis, American Journal of Pathology, in press, 2006(2006)
Yang, Z., Vezeridis, P.S., Nicholas, B., Crisco, J.J., Moore, D.C., and Chen, Q. Differential expression of type X collagen in a mechanically active 3-D chondrocyte culture system: a quantitative study, Journal of Orthopaedic Surgery and Research, in press, 2006(2006)
Lee, M., Bier, A., Eberson, C., Ehrlich, M. G., and Chen, Q. Epiphysiodesis with infusion of stromal cell-derived factor-1 in rabbit growth plates, Journal of Bone and Joint Surgery, in press, 2006(2006)
Wei, L., Sun, X., Wang, Z., and Chen, Q. CD95-induced osteoarthritic chondrocyte apoptosis and necrosis: dependency on p38 mitogen-activated protein kinase, Arthritis Research & Therapy, 8(2):R37, 2006(2006)
Lee, C-H, Huang, G-S. Chao, K-H, Wu, S-S., and Chen, Q. Biomechanical comparison of cross-pin and endobutton-CL femoral fixation of a flexor tendon graft for anterior cruciate ligament reconstruction -- A porcine femur-graft-tibia complex study, Clinical Biomechanics, Vol. 20, in press, 2006(2006)
Kanbe, K., Inoue, K., Xiang, C., and Chen, Q. Identification of clock as mechanosensitive gene by large-scale DNA microarray analysis: downregulation is osteoarthritic cartilage, Modern Rheumatology, in press, 2006(2006)
Wei, L., Sun, X., Wang, Z., Kanbe, K., Terek, R., and Chen, Q. Chondrocyte death induced by pathological concentration of chemokine stromal cell-derived factor-1, Journal of Rheumatology, in press, 2006(2006)
Chen, Q. Skeletal Mechanobiology: Where does it go in the 'post-dinosaur' age? Current Opinion in Orthopaedics, 16: 309-310, 2005(2005)
Wei, L., Sun, X., Wang, Z., and Chen, Q. CD95-induced osteoarthritic chondrocyte apoptosis and necrosis: dependency on p38 mitogen-activated protein kinase, Arthritis Research & Therapy, in press, 2005(2005)
Lee, C-H, Huang, G-S. Chao, K-H, Wu, S-S., and Chen, Q. Biomechanical Comparison of Cross- pin and EndoButton-CL Femoral Fixation of a Flexor Tendon Graft for Anterior Cruciate Ligament Reconstruction --- A Porcine Femur-Graft-Tibia Complex Study, Clinical Biomechanics, Vol. 19, in press, 2005(2005)
Lee, C-H, Huang, G-S. Chao, K-H, Wu, S-S., and Chen, Q. Differential Pretensions of a Flexor Tendon Graft for Anterior Cruciate Ligament Reconstruction: A Biomechanical Comparison, Arthroscopy: The Journal of Arthroscopic and Related Surgery, 21:540-546, 2005(2005)
Chen, Q., Lei, W., Wang, Z., Sun, X., Luo, J., and Yang, X. Endochondral bone formation and extracellular matrix, Current Topics in Bone Biology, 145-162, Deng, H., and Liu, Y. (Eds) World Scientific Publishing Co. 2005(2005)
Chen, Q. Molecular components of mechanotransduction pathway in cartilage. In The Skeleton: Biochemical, Genetic and Molecular Interactions in Development and Homeostasis, Massaro, E., and Rogers, J. (Eds) Humana Press, Inc, 1:89-100, 2004(2004)
Phornphutkul, C., Wu, K., Yang, X., Chen, Q., and Gruppuso, P. IGF-I Signaling is Modified During Chondrocyte Differentiation, J. Endocrinology, 183: 477-486, 2004(2004)
Kanbe, K., Takemura, K., Takeuchi, K., Chen, Q., Takagishi, K., and Inoue, K. Synovectomy reduces stromal cell-derived factor-1 (SDF-1), which is involved in cartilage destruction in osteoarthritis and rheumatoid arthritis. Journal of Bone and Joint Surgery (Britain), 86:296-300, 2004.(2004)
Chen, Q.: Mechanisms underlying mechanical regulation of cartilage growth. Current Opinions in Orthopaedics, 14:307-310, 2003(2003)
Mosher, J. T., Chen, Q., and Smith, M. B.: 1H magnetic rosonance spectroscopy of nanomelic chicken cartilage: effect of aggrecan depletion on cartilage T2. Osteoarthritis and Cartilage, 11(10): 709-715, 2003(2003)
Donahue, H.J., Chen, Q., Jacobs, C.R.J., Saunders, M.M., and Yellowley, C.E. Bone cells and mechanotransduction. In Molecular Biology in Orthopaedics, Rosier, R.N., and Evans, C. H., AAOS Press, 179-190, 2003(2003)
Kanbe, K., Takagishi, K., and Chen, Q. Reply to study of SDF-1 alpha synovial fluid in early rheumatoid arthritis. Arthritis & Rheumatism, 48:275-276, 2003.(2003)
Kanbe, K., Takagishi, K., and Chen, Q. Interaction of stromal cell-derived factor-1 and CXC chemokine receptor 4 stimulates matrix metalloprotease 3 release from human chondrocytes. Arthritis & Rheumatism, 46(1), 130-137, 2002.(2002)
Chen, Q. Regulation of cartilage maturation: intracellular pathways and extracellular modulators Current Opinions in Orthopaedics, 13: 329-332, 2002.(2002)
Wu, Q., Zhang, Y., and Chen, Q. Indian hedgehog is an essential component of mechanotransduction complex to stimulate chondrocyte proliferation. J Biol Chem 276(38):35290-35296, 2001.(2001)
You, J., Reilly, G., Zhen, X., Yellowley, C. E., Chen, Q., Donahue, H. J., and Jacobs, C. R.: Osteopontin gene regulation by oscillatory fluid flow via intracellular calcium mobilization and activation of mitogen-activated protein kinase in MC3T3-E1 osteoblasts. J Biol Chem 276(16):13365-13371, 2001.(2001)
Chen, Q.: The molecular basis of skeletogenesis. In Novartis Foundation Symposium 232, John Wiley & Sons, Ltd, 2001.(2001)
Zhen, X., Wei, L., Wu, Q., Zhang, Y., and Chen, Q.: Mitogen activated protein kinase p38 mediates inhibition of chondrocyte hypertrophy by parathroid hormone. J Biol Chem 276(7):4879-4885, 2001.(2001)
Zhang, Y., and Chen, Q.: Changes of matrilin forms during endochondral ossification: molecular basis of oligomeric assembly, J Biol Chem 275(42):32628-32634, 2000.(2000)
You, J., Yellowley, C.E., Donahue, H. J., Zhang, Y., Chen. Q., and Jacobs, C. R.: Substrate deformation levels associated with routine physical activity are less stimulatory to bone cells relative to loading-induced oscillatory fluid flow. J Biomechan Engin 122: 387-393, 2000.(2000)
Wu, Q., and Chen, Q.: Mechanoregulation of chondrocyte proliferation, maturation, and hypertrophy: ion-channel dependent transduction of matrix deformation signals. Exp Cell Res 256:383-391, 2000.(2000)
Zhang, Y., Chen, Q.: The noncollagenous domain 1 of type X collagen: a novel motif for trimer and higher order multimer formation without a triple helix. J Biol Chem 274:22409-22413, 1999.(1999)
Chen, Q., Zhang, Y., Johnson, D.M., and Goetinck, P.F.: Assembly of a novel cartilage matrix protein filamentous network: molecular basis of differential requirement of vWF A domains. Molec Biol Cell 10:2149-2162, 1999.(1999)
Linsenmayer, T.F., Long, F., Nurminskaya, M., Chen, Q., and Schmid, T.M.: Type X collagen and other up-regulated components of the avian hypertrophic cartilage program. Prog Nucleic Acid Res Molec Biol 60:79-110, 1998.(1998)
Chen, Q., Johnson, D.M., Haudenschild, D., and Goetinck, P.F.: Cartilage matrix protein: expression patterns in chicken, mouse, and human. Ann NY Acad Sci 785:238-240, 1996.(1996)
Chen, Q., Johnson, D.M., Haudenschild, D., Tondravi, M., and Goetinck, P.F.: Cartilage matrix protein forms a type II collagen-independent filamentous network: analysis in primary cell cultures with a retrovirus system. Molec Biol Cell 6:1743-1753, 1995.(1995)
Chen, Q., Johnson, D.M., Haudenschild, D.R., and Goetinck, P.F.: Progression and recapitulation of the chondrocyte differentiation program: cartilage matrix protein is a marker for cartilage maturation. Develop Biol 172:293-306, 1995.(1995)
Haudenschild, D.R., Tondravi, M.M., Hofer, U., Chen, Q., and Goetinck, P.F.: The role of coiled-coil a-helices and disulfide bonds in the assembly and stabilization of cartilage matrix protein subunits- A mutational analysis. J Biol Chem 270:23150-23154, 1995.(1995)
Schmid, T.M., Cole, A.A., Chen, Q., Bonen, D.K., Luchene, L., and Linsenmayer, T.F.: Assembly of type X collagen by hypertrophic chondrocytes. In Yurchenco, P.D., Birk, D.E., and Mecham, R.P. (Eds.) Extracellular Matrix Assembly and Structure, Academic Press, 1994, pp. 171-206.(1994)
Chen, Q., Gibney, E., Leach, R.M., and Linsenmayer, T.F.: Chicken tibial dyschondroplasia: a limb mutant with two growth plates and possible defects of collagen crosslinking. Develop Dynamics 196:54-61, 1993.(1993)
Chen, Q., Fitch, Gibney, E., and Linsenmayer, T.F.: Type II collagen during cartilage and corneal development: Immunohistochemical analysis with an anti-telopeptide antibody. Develop Dynamics 196(1):47-53, 1993.(1993)
Chen, Q. and Linsenmayer, T.F.: Distributions of fibronectin in the developing avian cartilaginous growth plate. Prog Clin Biol Res 383B:495-504, 1993.(1993)
Chen, Q., Fitch, J.M., Linsenmayer, C., and Linsenmayer, T.F.: Type X collagen: Covalent crosslinking to hypertrophic cartilage-collagen fibrils. Bone Mineral 17:223-227, 1992.(1992)
Chen, Q., Linsenmayer, C., Gu, H.H., Schmid, T.M., and Linsenmayer, T.F.: Domains of type X collagen: alteration of cartilage matrix by fibril association and proteoglycan accumulation. J Cell Biol 117:687-694, 1992.(1992)
Linsenmayer, T.F., Chen, Q., Gibney, E., Gordon, M.K., Marchant, J.K., Mayne, R. and Schmid, T.M.: Collagen types IX and X in the developing chick tibiotarsus: analysis of mRNAs and proteins. Development 111:191-196, 1991.(1991)
Chen, Q., Gibney, E., Fitch, J.M., Linsenmayer, C., Schmid, T.M. and Linsenmayer, T.F.: Rapid translocation of type X collagen through embryonic cartilage matrix. Proc Natl Acad Sciences USA 87:8046-8050, 1990.(1990)
Chen, Q., Taljanidisz, J., Sarkar, S., Tao, T. and Gergely, J.: Cloning, sequencing and expression of a full-length rabbit fast skeletal troponin-C cDNA. FEBS LETTERS 228(1):22-26, 1988.(1988)