Media Prep Kitchen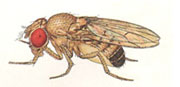 The Media Prep Kitchen is dedicated to providing investigators with high quality media for for Drosophila research and genetic stock maintenance. In the centralized kitchen, two types of media are prepared either in large quantities in a steam-jacketed food kettle and in smaller quantities on an induction cooktop. Media is pumped into trays of glass vials (10ml) or into plastic bottles (30ml) depending on research needs. Media is prepared according to a strict protocol that ensures consistency in diet and the absence of any bacterial, fungal or insect contamination. Researchers return glass vials to the facility where they are autoclaved, washed, and filled again.
Equipment
The media kitchen is equipped with a food service quality steam kettle fitted with stirring unit for >30 liters media prep, a Steris autoclave and a Lancer Washer fitted with custom racks for glass vials. Media is dispensed using Filamatic and Materflex/ Digistalic pumps.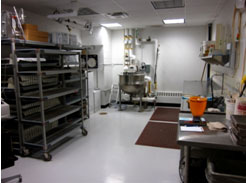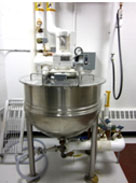 Contact
The Media Prep Kitchen is located in the BioMed Center.
For information on using this facility, please contact Kristi Wharton at Kristi_Wharton@brown.edu