Brown University Initiative to Maximize Student Development (IMSD)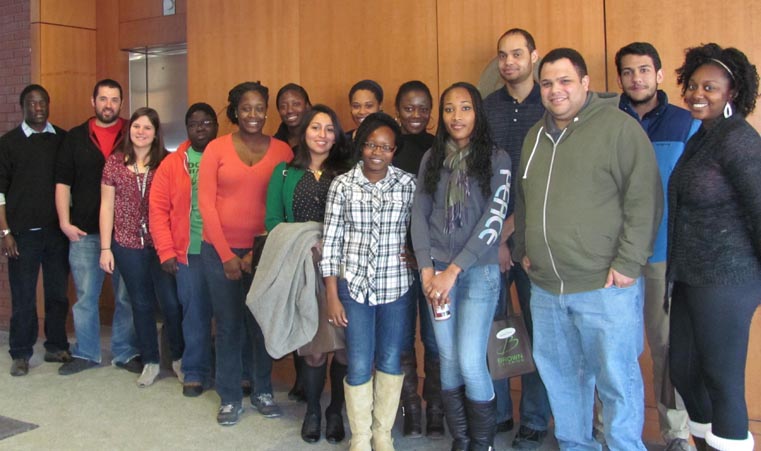 Brown University is dedicated to ensuring that its scholarly community is enriched by individuals, who, through their different races and ethnicities, nationalities, gender identities, age, abilities, political beliefs, spiritual beliefs, economic status, and sexual orientation, contribute to an intellectually challenging and inclusive educational environment. The Initiative to Maximize Student Development is a predoctoral program to enhance such activities and create a diverse environment in which all students contribute to an enriched graduate student experience.
IMSD Program Brochure
IMSD Program Highlighted in Brown's Plan for Diversity and Inclusion
The IMSD Program is highlighted as a centerpiece of President Paxson's plan for diversity and inclusion and will serve as a model of best practices as the University develops and implements the ideas set forth in "Pathways to Diversity and Inclusion: An Action Plan for Brown University".
LabTV Interviews IMSD Students
The NIH recently launched a LabTV project to expose the public to science and to inspire young people to pursue careers in biomedical research. It features brief, documentary-style video interviews with young scientists about their research and personal journeys. Several IMSD graduate students are featured on the site. Check out their video interviews at the links below:
Heather Bennett
Curious About Sleeping Habits
Eric James
Curious About How the Brain Grows and Develops
Vérida Léandre
Curious About the Processes That Store Fat in the Body
Ann Catherine Saunders
Curious About Embryo and Fetal Development
2015 Climate Survey Prize Winner!
Congratulations to Dan DuBreuil, doctoral candidate in Neuroscience, who won this year's BioMed and Public Health Climate Survey incentive prize, a FitBit HR. The survey is conducted annually by IMSD external program consultant, Meridian Solutions, Inc. and provides valuable feedback that helps us continually improve the learning environment for our graduate trainees.
Congratulations to our New PhDs!
Three IMSD trainees received their PhD degree at Brown's 2015 Commencement Ceremony.
Eric James on What Can Tadpoles Teach Us About Autism?
Eric James, IMSD Trainee and doctoral candidate in Neuroscience, conducted a study that uses a tadpole model to link drug exposure to autism-like effects. His research paper on "Valproate-Induced Neurodevelopmental Deficits in Xenopus laevis Tadpoles" was published in the Journal of Neuroscience on February 18, 2015. The study was also highlighted in a Brown University News article.
Eric discussed his research at a special symposium as part of the University's 250th anniversary celebration in September 2014. Click to view video.
Stem pipeline problems to aid STEM diversity
Work of the Brown IMSD program was highlighted in a recent Brown University news article regarding recruitment and retention of underrepresented trainees and the metaphorical science, technology, engineering, and math (STEM) pipeline. Read more...
2014 BioMed Climate Survey Prize Winner Announced!
Congratulations to Jeremy Rehm who was randomly selected to win the 2014 BioMed Climate Survey incentive prize - a Kindle Fire HD 7! Jeremy is a first year graduate student in the Ecology & Evolutionary Biology PhD program. The annual survey, sponsored by the Brown IMSD program, provides the Division with anonymous feedback from graduate students regarding the quality of their training experience. Thanks to everyone who participated.
Module Leaders Workshop Promotes Improved Teaching & Learning
IMSD faculty module leaders and senior scholars gathered together in August to participate in a teaching & learning workshop presented by Sheridan Center director, Dr. Kathy Takayama. This annual event provides an opportunity for faculty instructors and graduate student peer mentors to share best practices and plan for upcoming training modules.
Brown SACNAS Chapter Receives 2013 Role Model Award
The Brown University SACNAS chapter was honored to receive the 2013 Role Model Award for "Outstanding New Chapter" presented to the group at the national conference in San Antonio, TX. Established in 2012 under the leadership of Teresa Ramirez (chapter president / founder), the chapter has had an exciting and productive year, organizing a variety of workshops, seminars, and outreach activities to increase awareness of careers in science and higher education. Congratulations to everyone who has helped to get the Brown SACNAS chapter off to such a great start!
Read More...
2013 BioMed Climate Survey Prize Winner!
Congratulations to Brooke Osborne who was randomly selected to win the 2013 BioMed Climate Survey incentive prize - a Kindle Fire HD! Brooke is a first year graduate student in the Ecology & Evolutionary Biology PhD program. The annual survey, sponsored by the Brown IMSD program, provides the Division with anonymous feedback from graduate students regarding the quality of their training experience. Thanks to everyone who participated.
How sequestration is affecting training program directors
Prof. Andrew Campbell recently spoke with Daryl E. Chubin at AAAS about how the sequester is affecting the Brown IMSD Program and the training of the scientific workforce. Read more...
Program Improves Ph.D. Student Diversity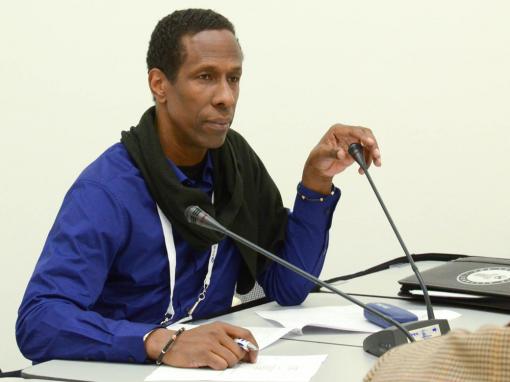 A paper in the peer-reviewed journal CBE—Life Sciences Education describes a Brown University program that has significantly improved recruiting and performance of underrepresented minority students in its nine life sciences doctoral programs over the last four years.
Data in the paper show increases in applications, admissions, enrollments, test scores, grades and scientific publications and presentations among underrepresented minority students after implementation of the program called the Initiative to Maximize Student Development (IMSD).
NEW! Video tutorial on Image J and Photoshop
IMSD module leader Mark Johnson (Associate Professor of Biology, Dept. of Molecular Biology, Cell Biology and Biochemistry) recently teamed up with Judith Nathanson, Senior Desktop Support Technician to produce a video tutorial on How to use Image J and Photoshop. The video was developed for use in the IMSD training module "Graphic Presentation of Scientific Data". Response to the video has been very positive, and the instructors are pleased to share this resource with our broader community.
NIGMS Convenes TWD 2012 Meeting
The first meeting of the newly established TWD Division (Training, Workforce Development, & Diversity) of NIGMS was held June 12-15, 2012 in San Antonio, Texas. The meeting brought together for the first time the directors of the former MORE programs (IMSD, PREP, BRIDGES, RISE, SCORE, MARC & IRACDA), NIGMS T32 Program Directors and programs from the now defunct National Center for Research Resources. This restructuring and unification creates unique opportunities for the development of collaborations and partnerships that will help create a more diverse and competitive domestic scientific workforce. The changes also promote intellectually organic cross-fertilization and vertical integration of common interests and practices shared by all. In addition to the general presentations and discussions regarding structural changes, the 2012 TWD meeting included workshops on topics such as program evaluation, funding, GRE testing, training and tenure. Brown IMSD Program Director Professor Andrew G. Campbell led an interactive workshop session on How to Address the Challenge of Diversity in the Graduate Ranks: Good Practices Yield Good Outcomes.
Pollination with precision: How flowers do it
IMSD graduate student Kristen Beale and Professor Mark Johnson found that Arabidopsis, a convenient research plant, optimizes the distribution of pollen for successful reproduction. Credit: Mike Cohea/Brown University
Beale et al., Gamete Fusion Is Required to Block Multiple Pollen Tubes from Entering an Arabidopsis Ovule, Current Biology (2012), doi:10.1016/j.cub.2012.04.041
Read more
Brown IMSD Presentation Receives NPA Award
A presentation of Brown IMSD's skill-based training modules received 1 of 4 "Innovation in Action" poster awards at the 2011 Annual Meeting of the National Postdoctoral Association (NPA) held March 25-27th on the NIH campus. The poster entitled "Brown's IMSD Grant Addresses NPA Core Competencies" was recognized for its content and promise as an emerging program with the potential to impact the training of postdoctoral fellows
Brown IMSD Poster
IMSD PI & Program Director, Dr. Andrew G. Campbell, ran a 'How To' and 'Best Practices' Session as part of the Mentoring Symposium at the 50th annual meeting of the American Society for Cell Biology
(ASCB; http://www.ascb.org/). Much of the presentation was modeled on Dr. Campbell's regularly taught IMSD training module, 'Demystifying the PhD Training Experience: Strategies for Academic & Personal Success in Grad School' (http://biomed.brown.edu/imsd/training/).
Sheridan Center
The Teaching Exchange newsletter Featured IMSD article!
"Advancing the Culture of PhD Learning and Scholarship in Biology and Health Sciences"