Anne Hart, Ph.D.
Edit My Page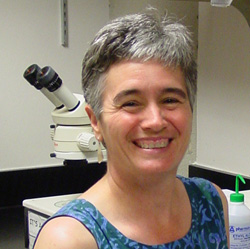 Title: Professor of Biology
Department: Neuroscience (Hart Office SFH458)
Anne_Hart@brown.edu
+1 401 863 2822
Overview | Research | Grants/Awards | Teaching | Publications
Anne Hart is a neurobiologist who uses genetic and molecular approaches in the small nematode C. elegans to understand the conserved mechanisms underlying neurodegenerative disease and nervous system function. She focuses on delineating cellular and molecular pathways pertinent to Spinal Muscular Atrophy (SMA). Dr. Hart also studies how animals respond to sensory stimuli, adapt to environmental stress, and mechanisms of aging.
Biography
Dr. Anne Hart obtained her Ph.D. in Neuroscience at UCLA with Dr. S.L. Zipursky working on cell fate specification in the Drosophila eye. She undertook her post-doctoral training in C. elegans genetics with Dr. Josh Kaplan in the Department of Molecular Biology at Massachusetts General Hospital. Dr. Hart joined the Center for Cancer Research at the Massachusetts General Hospital and the Harvard Medical School Department of Pathology as an assistant professor and taught numerous classes in genetics and neuroscience. She moved to the Department of Neuroscience at Brown University in the fall of 2009. She has served as resident faculty in both the Neural Systems & Behavior and the Neurobiology courses at the Marine Biological Laboratories. Her research focuses on the molecular and cellular mechanisms underlying neurological disease, sensory signaling, and adaptation to environmental stress.
Research Description
Dr. Hart's research has focused primarily on neurodegenerative disease and neuronal signaling using the C. elegans nervous system. Currently, she and her lab members are working on 1) Spinal Muscular Atrophy and on 2) Notch signaling in behavior, development, and stress response.

Dr. Hart uses forward and reverse genetic techniques to identify pathways critical for neurodegenerative disease and has established the utility of C. elegans for modeling these human disorders. In the last few years, her laboratory has primarily focused on delineating the cellular and molecular pathways that play critical roles in Spinal Muscular Atrophy (SMA) as part of a collaborative effort with Drs. S. Artavanis-Tsakonas and D. van Vactor. Having multiple C. elegans models of neurodegenerative disease on hand allows both intellectual and practical synergy in characterizing relevant pathological pathways. Dr. Hart's group is currently developing C. elegans models of other neurodegenerative diseases.

Dr. Hart and her laboratory also undertake behavioral, molecular, and genetic studies to understand how animals respond to changes in the environment. This resulted in the identification of a new family of conserved Notch co-ligands in C. elegans. Current research examines 1) the role of these Notch co-ligands in cell fate specification during development, 2) the role of the Notch pathway in stress resistance/longevity, and 3) the targets of Notch signaling in adult behavior. Dr. Hart's laboratory has demonstrated that OSM-11 and related proteins act as Notch co-ligands in vivo. They are now undertaking additional developmental analyses and biochemical validation of this model in vivo and in tissue culture studies. Loss of OSM-11 increases the resistance of C. elegans to osmotic stress. This has lead the laboratory to examine the role of the Notch pathway in stress resistance and longevity in an on-going collaboration with Dr. D. Sinclair.

Dr. Hart's group originally identified OSM-11 as a protein required for normal adult behavior and they are now addressing neuronal roles for the Notch signaling pathway. The role of Notch signaling in the adult nervous system is poorly understood in any system. Highlights of these on-going studies include identification of a role for Notch signaling in sensory response and in quiescence, a C. elegans model of sleep.
Awards
1985-1989 ARCS Scholar and Ursula Mandel Scholar, UCLA.
1988-1991 NRSA Traineeship, Genetics Training Grant, UCLA.
1993-1995 Muscular Dystrophy Assoc. Postdoctoral Fellowship.
1995-1996 Medical Foundation Postdoctoral Fellowship.
1998-2000 Basil O'Connor Award, March of Dimes Foundation
1998-2001 Searle Scholar Program Award
Affiliations
1996-date Society for Neuroscience
2005-date Genetics Society of America
2007-date PLoS One Editorial Board
2007-date AFAR National Scientific Advisory Council
2008-date Invertebrate Neuroscience Editorial Board
2009-date Member of Marine Biological Laboratories Corporation
2009-date Member of MBL Science Advisory Council
2010-date California State Univ., San Bernardino MARC (Minority Access Research Careers)
Funded Research
Our work has been funded in the past by the Hereditary Disease Foundation, The Whitehall Foundation, The March of Dimes, the National Institute of General Medical Science and National Institute of Neurological Disorders and Stroke.
Currently, our research is funded by an anonymous charitable foundation, and the National Institute of General Medical Science and National Institute of Neurological Disorders and Stroke.
Teaching Experience
Genetics
Neurobiology
Selected Publications
Walker AK, PhD, Jacobs RL, Watts JL, Rottiers V, Jiang K, Finnegan DM, Shioda T, Hansen, M, Yang F, Niebergall L, Vance D, Tzoneva M, Hart AC, Näär, AM 2011 Control of one‐carbon cycle genes by SREBP‐1 links phosphatidylcholine biosynthesis and hepatic lipogenesis Cell (in press)(2011)
Hyde R, Corkins ME, Somers GA, Hart AC 2011 Genes, Brain and Behavior PKC-1 acts with the ERK MAPK signaling pathway to regulate Caenorhabditis elegans mechanosensory response. Genes, Brain and Behavior 10: 286–298 PMID: 21143768(2011)
Chao MC, Singh K, Somers GA, Komatsu H, Corkins ME, Larkins-Ford J, Tucey T, Dionne HM, Walsh MB, Beaumont EK, Hart DP, Lockery S, Hart AC 2011 C. elegans Notch signaling regulates adult chemosensory response and larval molting quiescence. Current Biology 21(10):825-34 PMID: 21549604(2011)
Walker AK, Yang F, Jiang K, Ji JY, Watts JL, Purushotham A, Boss O, Hirsch ML, Ribich S, Smith JJ, Israelian K, Westphal CH, Rodgers JT, Shioda T, Elson SL, Mulligan P, Najafi-Shoushtari H, Black JC, Thakur JK, Kadyk LC, Whetstine JR, Mostoslavsky R, Puigserver P, Li X, Dyson NJ, Hart AC, Näär AM 2010 Conserved role of SIRT1 orthologs in fasting-dependent inhibition of the lipid/cholesterol regulator SREBP. Genes and Development 24(13):1403-17. PMID: 20595232(2010)
Haspel G, O'Donovan, Hart AC 2010 Motorneurons dedicated to either forward or backward locomotion in the nematode C. elegans. Journal of Neuroscience 30(33):11151 PMID: 20720122(2010)
Dimitriadi M, Sleigh JN, Walker AK, Chang HC-H, Sen A, Kalloo G, Harris J, Barsby T, Walsh MB, Satterlee JS, Li C, Van Vactor D, Artavanis-Tsakonas S, Hart AC 2010 Conserved genes act as modifiers of invertebrate SMN loss of function defects. PLoS Genetics 6(10): e1001172 PMID: 21124729(2010)
Jeong H, Then F, Savas J, Tanese N., Hart AC, Krainc D Acetylation Targets Mutant Huntingtin to Autophagosomes for Degradation in Huntington's Disease. Cell 2009 137(1):60-72. PMID: 19345187(2009)
Guo ZV, Hart AC, Ramanathan S Optical interrogation of neural circuits in Caenorhabditis elegans Nature Methods 2009 6: 891-96. PMID: 19898486(2009)
Komatsu H, Chao MC, Larkins-Ford J, Corkins ME, Somers GA, Tucey T, Dionne HM, White JQ, Wani K, Boxem M, Hart AC OSM-11 facilitates LIN-12 Notch signaling during C. elegans vulval development 2008 PLoS Biology 6(8):e196. PMID: 18700817(2008)
Chang HC-H, Dimlich DN, Yokokura T, Mukherjee A, Kankel MW, Sen A, Sridhar V, Fulga TA, Hart, AC, Van Vactor D, Artavanis-Tsakonas S Modeling Spinal Muscular Atrophy in Drosophila 2008 PLoS ONE 3(9):e3209 PMID: 18791638(2008)
Varma H, Cheng R, Voisine C, Hart AC, Stockwell BR 2007 Inhibitors of metabolism rescue cell death in Huntington's disease models PNAS 104(36):14525-30(2007)
Voisine C, Varma H, Walker N, Bates EA, Stockwell BR and Hart AC 2007 Identification of Potential Therapeutic Drugs for Huntington's Disease using Caenorhabditis elegans PLoS ONE 6:e504 (ACS Chemical Biology Spotlight paper). PMID: 17551584(2007)
Ferkey D, Hyde R, Haspel G, Dionne HM, Hess HA, Suzuki H, Schafer WR, Koelle MR, Hart AC C. elegans G Protein Regulator RGS-3 Controls Sensitivity to Sensory Stimuli 2007 Neuron 53(1):39-5. PMID: 17196529(2007)
E.A. Bates, M. Victor, M.J. Alkema, A.K. Jones, Y. Shi, H.R. Horvitz, and A.C. Hart. 2006. Differential contributions of Caenorhabditis elegans histone deacetylases to huntingtin polyglutamine toxicity. Journal of Neuroscience 26: 2830-2838. PMID: 16525063(2006)
Varma H, Voisine C, De Marco CT, Cattaneo E, Lo DC, Hart AC, Stockwell BR 2006 Selective inhibitors of death in mutant huntingtin cells Nature Chemical Biology 3(2):99-100.(2006)
M.Y. Chao, J. Larkins-Ford, T.M. Tucey, and A.C. Hart. 2005. lin-12 Notch functions in the adult nervous system. BMC Neuroscience 6:45. PMID: 16011804(2005)
M.Y. Chao, H. Komatsu, and A.C. Hart. 2004. Feeding status and serotonin rapidly and reversibly modulate a C. elegans chemosensory circuit. PNAS 101:15512-17 (PNAS Track II) PMID: 15492222(2004)
H.S. Fukuto, D.M. Ferkey, A.J. Apicella, H. Lans, T. Sharmeen, W. Chen, R.J. Lefkowitz, G. Jansen, W.R. Schafer, and A.C. Hart. 2004. G Protein-Coupled Receptor Kinase Function Is Essential for Chemosensation in C. elegans. Neuron 42: 581-593. PMID: 15157420(2004)
P.W. Faber, C. Voisine, D.C. King, E. A. Bates, and A.C. Hart. 2002. Glutamine/proline-rich PQE-1 proteins protect C. elegans neurons from huntingtin polyglutamine neurotoxicity. PNAS 99:17131-17136. (PNAS Track II) PMID: 12486229(2002)
A.N. Nathoo, R.A. Moeller, B.A. Westlund, and A.C. Hart. 2001. Identification of neuropeptide-like protein gene families in Caenorhabditis elegans and other species. PNAS 98:14000-14005. (PNAS Track II) PMID: 11717458(2001)
P.W. Faber, J. Alter, M.E. McDonald and A.C. Hart. 1999. Polyglutamine-mediated dysfunction and apoptotic death of a C. elegans sensory neuron. PNAS 96:179-184. (PNAS Track II) PMID: 9874792(1999)