Gaurav Choudhary, MD
Edit My Page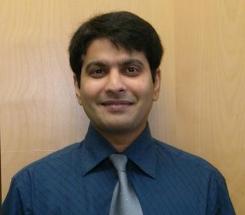 Title: Associate Professor of Medicine
Department: Medicine
Gaurav_Choudhary@brown.edu
401-273-7100 ext.3441
> View Text-Only Version of Gaurav Choudhary's Resume
Overview | Research | Grants/Awards | Teaching | Publications
The focus of our research is to evaluate the mechanisms underlying vascular dysfunction and cardiac dysfunction seen in pulmonary vascular diseases. The laboratory uses a variety of in vitro, ex vivo and in vivo approaches utilizing the preclinical models of pulmonary hypertension and emphysema. In clinical research, we are attempting to characterize the role and impact of cardiac dysfunction in settings of lung diseases.
Biography
Dr. Choudhary is an Associate Professor of Medicine and staff cardiologist at the Providence VA Medical Center. He went to Michael Reese Hospital for residency in Internal Medicine. He did his cardiovascular diseases fellowship from Dr. Samuel Dudley as post-doctoral fellow during his fellowship. He was appointed Assistant Professor at Brown University in 2004. Dr. Choudhary's reseach is performed at the
Institutions
VMAC
Research Description
Cardiac Function in Lung Diseases
Cardiac dysfunction including right ventricular dysfunction and left ventricular diastolic dysfunction plays an important role in morbidity and mortality in a number of lung diseases such as COPD and pulmonary hypertension. The overall objective of our preclinical and clinical research is to characterize the cardiac dysfunction in lung diseases in patients and preclinical models, and investigate the underlying mechanisms.

Endothelial BKCa Channels and Hypoxic Pulmonary Endothelial Dysfunction
Pulmonary hypertension (PH) can complicate hypoxia due to chronic obstructive pulmonary disease (COPD), and is associated with increased morbidity and mortality in COPD. Hypoxic PH is associated with pulmonary endothelial dysfunction including decreased nitric oxide (NO) and prostacyclin (PGI2) production, vasoconstriction, and endothelial and vascular smooth muscle cell proliferation. Large-conductance Ca2+- activated potassium channels (BKCa) are expressed in endothelial cells (EC), and open in response to intracellular Ca2+, leading to K+ efflux and membrane hyperpolarization. In ECs, hyperpolarization can cause an increase in intracellular Ca2+ entry leading to the release of vasodilators, such as NO, PGI2 and endothelium-derived hyperpolarizing factor (EDHF); factors which also affect cellular proliferation. There is limited data on the importance of endothelial K+ channels in PH. Hypoxia causes an increase in endothelial BKCa expression, yet a decrease in their activity. The mechanism of increased BKCa expression, yet decreased activity, in hypoxic lung endothelial cells is not known. Also, it is not known whether increasing the endothelial BKCa activity can improve hypoxic pulmonary endothelial dysfunction, vascular remodeling and PH. Our overall hypothesis is that increased endothelial BKCa α-subunit expression and decreased activity provides a readily available "hyperpolarization reserve" in hypoxia. Hence, activation of endothelial BKCa will improve endothelial function in hypoxia. SPECIFIC AIMS: Aim 1: We will determine the expression of lung microvascular endothelial BKCa α- subunit in response to hypoxia and investigate the underlying mechanism. Aim 2: We will determine the activity of lung microvascular endothelial BKCa in response to hypoxia and investigate the underlying mechanism. Aim 3: We will determine the effect of endothelial BKCa activation on endothelial vasodilatory function, EC proliferation and vascular remodeling in response to hypoxia.
Awards
2013 Co-Chair, AHA Peer Review Panel- Cardiac Bio Reg – BSci 4
2012 Member, NHBI Special Emphasis Study Section ZHL1 CSR-H (M1), Pulmonary Vascular-Right Ventricular Axis Research Program
2012 Member, AHA Peer Review Panel- Cardiac Bio Reg – BSci 4
2010 Member, VISN 1 Career Development Award Review Committee
2009 Northwestern University Young Investigators' Forum- Finalist
2009 Member: AHA Peer Review Committee (Region I)
2008 Northwestern University Young Investigators' Forum- Third Prize
2008 Actelion Pharmaceuticals Young Investigator Award
2008 Member: AHA Peer Review Committee (Region I)
2007 Member, AHA NE Affiliate Peer-Review Committee
2006 Dean's Teaching Excellence Award, Brown Medical School
2006 Fellow of American College of Cardiology
2001 Pfizer Travel Award for American Heart Association Meeting, 2001
2000 Heart Failure Society Travel Award
Ad hoc Reviewer: Nature Clinical Practice Cardiovascular Medicine, Atherosclerosis Thrombosis and Vascular Biology, Lung, Journal of Respiratory Diseases, Journal of Applied Physiology, Channels, Peptides, Regulatory Peptides, Circulation, Journal of Pharmacy and Pharmacology, American Journal of Respiratory Cell and Molecular Biology, Acta Physiologica, Proceedings of the American Thoracic Society, Pflugers Archiv-European Journal of Physiology, Achieves of Internal Medicine.
Affiliations
2013- Associate Program Director, Cardiology Fellowship Program, Alpert Medical School
2011- Present Chair, Research & Development Committee,
Providence VA Medical Center, Providence, RI
2010 Member, Academic Technology Steering Committee, Brown University
2008-2009 Member, Peer-review Committee, Providence VAMC
2006- 2008 Member, Curriculum Redesign Committee- IT Working
Group, Brown Medical School
2005- 2011 Associate Chair, Research & Development Committee,
Providence VA Medical Center, Providence, RI
2005- 2007 Member, Advanced Clinic Access Committee, RI
Providence VA Medical Center, Providence,
2001 American Heart Association Basic Science Council
2001 American College of Cardiology
Funded Research
2011-2015
MERIT REVIEW (VHA) IBX000711A
Project: Endothelial BKCa Channels and Hypoxic Pulmonary Endothelial Dysfunction
Role: Principal Investigator

2013-2018 MERIT REVIEW (VHA) (PI: Ronald Goldstein)
Project: Tadalafil for Pulmonary Hypertension Associated with Chronic Lung Disease.
Role: Co-Investigator, Site co-PI

2011-2012
VA QUERI - HSR&D RRP 10-229 (Wu, WC)
Project: Medical Center Implementation of PCMH in Acute CHF to Reduce Rehospitalization Rates
Role: Co-Investigator
Applying a quasi-experimental design to implement a hospital-wide inpatient referral program of patients admitted with CHF to a pharmacist-led CHF Transition of Care Program (CHF-TCP) and compare the hospital-wide risk-adjusted 30-day rehospitalization rates for patients with a primary discharge diagnosis of CHF at PVAMC, from before vs. during the intervention period of the CHF-TCP program.

2009-2011
VA Career Development Award -2 (VHA) Extension
Project: Role of endothelial BKCa channels in pulmonary endothelial function.
Role: Principal Investigator

2008
Actelion Young Investigator Award (Choudhary)
Project: Role of Endothelin-Induced PKC delta Activation in Right Ventricular Hypertrophy.
Role: Principal Investigator

2007-2010
Career Development Award, Department of Veterans Affairs (Choudhary)
Project: Role of C-type Natriuretic Peptide in Pulmonary Vascular Function
Role: Principal Investigator

2006-2007
RI-INBRE Proposal Development Pilot Project (Choudhary)
Project: Role of C-type Natriuretic peptide in microvascular endothelial cell proliferation and apoptosis
Role: Principal Investigator


2005-2006
Rhode Island Foundation: Medical Research Award
Project: Role of C-type Natriuretic Peptide in Pulmonary Vascular Function
Role: Principal Investigator
Teaching Experience
WebCT Course
Learning to read an electrocardiogram
Courses Taught
Cardiac Pathophysiology/Pharmacology (IMS 350)
Cardiology Elective (314)
Mechanisms of Vascular Injury (Bio 284)
Selected Publications
Cohen S, Gaddam S, Wu W-C, Sharma S, Choudhary G. Right Ventricular Function Relates To Functional Capacity In Men With Atrial Fibrillation And Preserved Left Ventricular Ejection Fraction. Echocardiography. 2013 Jan 11. doi: 10.1111/echo.12099. [Epub ahead of print](2013)
Kim J, Gaddam S, Wu WC, Behera V, Sharma S, Choudhary G. Stratified Reporting of High Sensitivity Troponin I Assay is Associated with Suboptimal Management of Patients with Acute Coronary Syndrome and Intermediate Troponin Elevation. Journal of Clinical Laboratory Analysis. 2013. In Press.(2013)
Maron BA#, Choudhary G#, Khan UA, Jankowich MD, McChesney H, Ferrazzani PA, Gaddam S, Sharma S, Optowsky AR, Bhatt DL, Rocco TP, Aragam JR. The Clinical Profile and Under-Diagnosis of Pulmonary Hypertension in U.S. Veteran Patients. Circ Heart Fail. 2013 Sep 1;6(5):906-12.(2013)
Chatterjee S, Kim J, Dahhan A, Choudhary G, Sharma S, Wu W-C. Use of High-Sensitivity Troponin Assays Predicts Mortality in Patients with Normal Conventional Troponin Assays on Admission - Insights from a Meta-Analysis. Clinical Cardiology. Clin Cardiol. 2013 Aug 27.(2013)
Choudhary G, Jankowich M, Wu WC. Prevalence And Clinical Characteristics Associated With Pulmonary Hypertension In African-Americans. PLoS One. 2013 Dec 16;8(12):e84264(2013)
Maron BA, Goldstein RH, Rounds SI, Shapiro S, Jankowich M, Garshick E, Moy ML, Gagnon D, Choudhary G. Study design and rationale for investigating phosphodiesterase type 5 inhibition for the treatment of pulmonary hypertension due to chronic obstructive lung disease: the Tadalafil for Pulmonary Hypertension Associated with Chronic Obstructive Lung Disease (TADA-PHiLD) trial. Pulmonary Circulation 2013. In Press(2013)
Patel N, Taveira TH, Choudhary G, Whitlatch H, Wu WC. Fasting Serum C-Peptide Levels Predict Cardiovascular and Overall Death in Non-Diabetic Adults. 2012. J Am Heart Assoc. 2012 Dec;1(6):e003152.(2012)
Choudhary G, Atalay MK, Ritter N, Shin V, Grand D, Pearson C, Kirchner RM, Wu WC. Interobserver reliability in the assessment of coronary stenoses by multidetector computed tomography. J Comput Assist Tomogr. 2011 Jan-Feb; 35 (1) :126-34. PubMed PMID:21245698.(2011)
Punjani S, Wu WC, Cohen S, Sharma SC, Choudhary G. Echocardiographic indices of diastolic function relate to functional capacity and quality of life in ambulatory men with atrial fibrillation. J Am Soc Echocardiogr. 2011 May; 24 (5) :533-540.e3. PubMed PMID:21345648.(2011)
Jankowich M, Choudhary G, Taveira TH, Wu WC. Age-, race-, and gender-specific prevalence of diabetes among smokers. Diabetes Res Clin Pract. 2011 Jun 14; PubMed PMID:21680039.(2011)
Choudhary G, Troncales F, Martin D, Harrington EO, Klinger JR. Bosentan attenuates right ventricular hypertrophy and fibrosis in normobaric hypoxia model of pulmonary hypertension. J Heart Lung Transplant. 2011 Jul; 30 (7) :827-33. PubMed PMID:21550822.(2011)
Casserly B, Mazer JM, Vang A, Harrington EO, Klinger JR, Rounds S, Choudhary G. C-type natriuretic peptide does not attenuate the development of pulmonary hypertension caused by hypoxia and VEGF receptor blockade. Life Sci. 2011 Jul 27; PubMed PMID:21820448.(2011)
Grinnell K, Duong H, Newton J, Rounds S, Choudhary G, Harrington EO. Heterogeneity in apoptotic responses of microvascular endothelial cells to oxidative stress. J Cell Physiol. 2011 Jul 5; PubMed PMID:21732361.(2011)
Choudhary G, Shin V, Punjani S, Ritter N, Sharma SC, Wu WC. The role of calcium score and CT angiography in the medical management of patients with normal myocardial perfusion imaging. J Nucl Cardiol. 2010 Jan-Feb; 17 (1) :45-51. PubMed PMID:19936862.(2010)
Vang A, Mazer J, Casserly B, Choudhary G. Activation of endothelial BKCa channels causes pulmonary vasodilation. Vascul Pharmacol. 2010 Sep-Oct; 53 (3-4) :122-9. PubMed PMID:20470901.(2010)
Erzurum S, Rounds SI, Stevens T, Aldred M, Aliotta J, Archer SL, Asosingh K, Balaban R, Bauer N, Bhattacharya J, Bogaard H, Choudhary G, Dorn GW 2nd, Dweik R, Fagan K, Fallon M, Finkel T, Geraci M, Gladwin MT, Hassoun PM, Humbert M, Kaminski N, Kawut SM, Loscalzo J, McDonald D, McMurtry IF, Newman J, Nicolls M, Rabinovitch M, Shizuru J, Oka M, Polgar P, Rodman D, Schumacker P, Stenmark K, Tuder R, Voelkel N, Sullivan E, Weinshilboum R, Yoder MC, Zhao Y, Gail D, Moore TM. Strategic plan for lung vascular research: An NHLBI-ORDR Workshop Report. Am J Respir Crit Care Med. 2010 Dec 15; 182 (12) :1554-62. PubMed PMID:20833821; PubMed Central PMCID: PMC3029941.(2010)
Simon A, Harrington EO, Liu GX, Koren G, Choudhary G. Mechanism of C-type natriuretic peptide-induced endothelial cell hyperpolarization. Am J Physiol Lung Cell Mol Physiol. 2009 Feb; 296 (2) :L248-56. PubMed PMID:19036874.(2009)
Khatana SA, Taveira TH, Choudhary G, Eaton CB, Wu WC. Change in hemoglobin A(1c) and C-reactive protein levels in patients with diabetes mellitus. J Cardiometab Syndr. 2009 Spring; 4 (2) :76-80. PubMed PMID:19614793.(2009)
Simon A, Liu GX, Koren G, Choudhary G. cANF causes endothelial cell hyperpolarization by activation of chloride channels. Peptides. 2009 Dec; 30 (12) :2337-42. PubMed PMID:19682521.(2009)
Klinger JR, Murray JD, Casserly B, Alvarez DF, King JA, An SS, Choudhary G, Owusu-Sarfo AN, Warburton R, Harrington EO. Rottlerin causes pulmonary edema in vivo: a possible role for PKCdelta. J Appl Physiol. 2007 Dec; 103 (6) :2084-94. PubMed PMID:17901241.(2007)
Choudhary G, Aliste MP, Tieleman DP, French RJ, Dudley SC Jr. Docking of mu-conotoxin GIIIA in the sodium channel outer vestibule. Channels (Austin). 2007 Sep-Oct; 1 (5) :344-52. PubMed PMID:18690041.(2007)
Sebastian CC, Wu WC, Shafer M, Choudhary G, Patel PM. Pneumopericardium and pneumothorax after permanent pacemaker implantation. Pacing Clin Electrophysiol. 2005 May; 28 (5) :466-8. PubMed PMID:15869684.(2005)
Wu WC, Sharma SC, Choudhary G, Coulter L, Coccio E, Eaton CB. Flow-mediated vasodilation predicts the presence and extent of coronary artery disease assessed by stress thallium imaging. J Nucl Cardiol. 2005 Sep-Oct; 12 (5) :538-44. PubMed PMID:16171713.(2005)
Ziv O, Choudhary G. Atrial fibrillation. Prim Care. 2005 Dec; 32 (4) :1083-107. PubMed PMID:16326228.(2005)
Yotsu-Yamashita M, Kim YH, Dudley SC Jr, Choudhary G, Pfahnl A, Oshima Y, Daly JW. The structure of zetekitoxin AB, a saxitoxin analog from the Panamanian golden frog Atelopus zeteki: a potent sodium-channel blocker. Proc Natl Acad Sci U S A. 2004 Mar 30; 101 (13) :4346-51. PubMed PMID:15070720; PubMed Central PMCID: PMC384749.(2004)
Choudhary G, Yotsu-Yamashita M, Shang L, Yasumoto T, Dudley SC Jr. Interactions of the C-11 hydroxyl of tetrodotoxin with the sodium channel outer vestibule. Biophys J. 2003 Jan; 84 (1) :287-94. PubMed PMID:12524282; PubMed Central PMCID: PMC1302610.(2003)
Choudhary G, Shang L, Li X, Dudley SC Jr. Energetic localization of saxitoxin in its channel binding site. Biophys J. 2002 Aug; 83 (2) :912-9. PubMed PMID:12124273; PubMed Central PMCID: PMC1302195.(2002)
Choudhary G, Dudley SC Jr. Heart failure, oxidative stress, and ion channel modulation. Congest Heart Fail. 2002 May-Jun; 8 (3) :148-55. PubMed PMID:12045383.(2002)
Kumar A, Choudhary G, Antonio C, Just V, Jain A, Heaney L, Papp MA. Carvedilol titration in patients with congestive heart failure receiving inotropic therapy. Am Heart J. 2001 Sep; 142 (3) :512-5. PubMed PMID:11526366.(2001)
Wang R, Alam G, Zagariya A, Gidea C, Pinillos H, Lalude O, Choudhary G, Oezatalay D, Uhal BD. Apoptosis of lung epithelial cells in response to TNF-alpha requires angiotensin II generation de novo. J Cell Physiol. 2000 Nov; 185 (2) :253-9. PubMed PMID:11025447.(2000)
Wang R, Zagariya A, Ibarra-Sunga O, Gidea C, Ang E, Deshmukh S, Chaudhary G, Baraboutis J, Filippatos G, Uhal BD. Angiotensin II induces apoptosis in human and rat alveolar epithelial cells. Am J Physiol. 1999 May; 276 (5 Pt 1) :L885-9. PubMed PMID:10330045.(1999)