Marjorie Thompson, Ph.D.
Edit My Page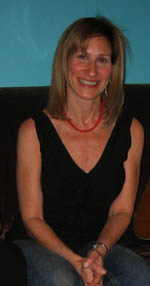 Title: Associate Dean of Biological Sciences (Undergraduate Ed); Adjunct Associate Professor of Biology
Department: Molecular Biology, Cell Biology, & Biochemistry
Marjorie_Thompson@Brown.EDU
+1 401 863 3814
Overview | Grants/Awards | Teaching | Publications
Dean Thompson oversees academic advising, programs, resources, and curricular development for undergraduates in all biological sciences programs.

She teaches Histology in the Medical school, and Embryology in the Undergraduate college.

Activities include educational development, original artwork and original music composition.
Biography
http://research.brown.edu/myresearch/Marjorie_Thompson
Http://www.marjoriethompson.com for presskit biography.
ScB Biochemistry, Brown 1974
PhD Biology, Brown 1979
MS Accounting, College of Business URI, 1983 (CPA 1983)
Certificate in Scientific Illustration, RISD, 1990

1983-present Associate Dean of Biological Sciences
Creator of Cellular Fun, Biologically correct jewelry
Workshop instructor at Jorma Kaukonen's Furpeace Ranch Guitar Camp
Independent musician and recording artist, Woodstock Records

Dean Thompson received her Sc.B. (Biochemistry, '74) and Ph.D. (Biology, '79) from Brown. As Associate Dean, she runs the Biology Undergraduate Affairs Office, which oversees academic advising, programs, resources, and curricular development for all biological sciences program and students. A member of the Department of Molecular, Cell Biology and Biochemistry, she also teaches Embryology, Histology and Biological Illustration at Brown. Contact Dean Thompson for consultation and advising about any issue related to the biological sciences at Brown.
Institutions
Brown University
Awards
1994 and 1996
Winner of the Barrett Hazeltine Senior Class Citation
Affiliations
Member, Guild of Natural Science Illustrators
Teaching Experience
Histology, embryology
Courses Taught
Biology of Basic Vertebrate Tissues (BI 0019)
Histology (BIOL 3640)
Human Histology (BI 0189)
Verebrate Embryology (BIOL 0320)
Vertebrate Embryology (BI 0032)
Selected Publications
Right By Me (2007)(2007)
Driving Live (2005)(2005)
Never Let Me Down (2005)(2005)
Add Some More (2003)(2003)