Leonard Mermel, DO, ScM, AM (Hon)
Edit My Page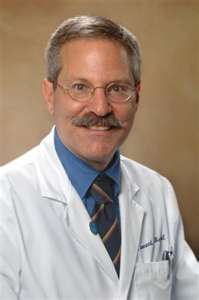 Title: Professor of Medicine
Department: Medicine
Leonard_Mermel@Brown.EDU
+1 401 444 2608
Overview | Research | Grants/Awards | Teaching | Publications
My research interests are in the pathogenesis, epidemiology, and prevention of hospital-acquired infections, especially, but not limited to, infections associated with intravascular catheters and those due to multi-drug resistant pathogens.
Biography
Dr. Leonard A. Mermel, FACP, FIDSA, FSHEA is Professor of Medicine, Warren Alpert Medical School of Brown University, Medical Director, Epidemiology & Infection Control Department, Rhode Island Hospital. He was Technical Expert Panel Member, Medicare Patient Safety Monitoring System, 2005 President, Society for Healthcare Epidemiology of America (SHEA). He's past recipient, Ralph A. Kinsella, Sr. Memorial Tribute Award, St. Louis University, SHEA Young Investigator Award, Brown Medical School Department of Medicine Chairman's Award for Outstanding Teaching. He's a member, Delta Omega Honorary Public Health Society. He's in Best Doctors in America, America's Top Doctors, Best of Rhode Island - Infectious Diseases Physician, Castle Connolly Top Doctor, Guide to America's Top Physicians, Who's Who in America, Who's Who in Science & Engineering. He's co-authored guidelines on intravascular catheter infections and >100 articles on infectious diseases. He lectures & teaches internationally on infectious diseases. His research interest is prevention of hospital-acquired infections.
Institutions
RIH
Research Description
My research has involved investigations of novel strategies to prevent device-related infections, particularly those due to intravascular catheters. This has been pursued by my writing and carrying out study protocols for prospective, randomized multicentered investigations, writing and carrying out laboratory investigations for the in vitro study of novel technologies aimed at prevention of such infections, and in writing evidence-based guidelines regarding the management and prevention of such infections so the gains in research are realized by clinicians.

I have also carried out research on the application of molecular fingerprinting to infection control and hospital epidemiology in an effort to better understand pathogenesis and epidemiology of hospital-acquired and community-acquired infections.

My research has also involved understanding the epidemiology of multi-drug resistant pathogens in the hospital and community setting using case-control or cohort studies.

Lastly, some of my research has involved applying epidemiologic tools to carry out outbreak investigations.
Awards
1)School Scholarship, The Johns Hopkins University School of Hygiene and Public Health, 1978
2)Post-Certified Scholarship, The Johns Hopkins University School of Hygiene and Public Health, 1979
3)Delta Omega, The Honorary Public Health Society, 1980
4)The Ralph A. Kinsella, Sr. Memorial Tribute Award For outstanding qualities of work, leadership, and ability as a house staff officer, St. Louis University Hospitals, 1988
5)Young Investigator Award, To recognize the work of young investigators whose contributions to the field of healthcare epidemiology has been exemplary. Society for Healthcare Epidemiology of America, 1997
6)Dean's Teaching Excellence Award for BIO 282 Pathophysiology/Infectious Disease, Brown Medical School, 2002, 2003, 2004, 2007, 2012
7)Teaching Award Chairman's Award for Outstanding Teaching, Department of Medicine, Brown Medical School, 2003
8)Infectious Disease Fellow's Recognition Award for Excellence in Teaching, Brown Medical School, 2004
9)Certificate of Recognition - To recognize teaching efforts & dedication to the highest standards of teaching in BIOL 3653 IMS II: Microbiology/Infectious Diseases, The Warren Alpert Medical School of Brown University, 2010
Affiliations
MEMBERSHIP IN SOCIETIES
Academic Councilor Society for Healthcare Epidemiology of
America Board of Directors, 1998-1999
Vice President Society for Healthcare Epidemiology of
America, 2003
President-Elect Society for Healthcare Epidemiology of
America, 2004
President Society for Healthcare Epidemiology of
America, 2005
Immediate Past-President Society for Healthcare Epidemiology of
America, 2006
Fellow Society for Healthcare Epidemiology of America
Fellow American College of Physicians
Fellow Infectious Diseases Society of America
Member Delta Omega, The Honorary Public Health Society
Member American Society for Microbiology
Member Association for Practitioners in Infection Control
Member Rhode Island Public Health Association
Member The Alliance for the Prudent Use of Antibiotics
Member National Association of Children's Hospitals and
Related Institutions, Pediatric Prevention Network
Member Evaluation of Processes and Indicators in Infection Control
Study Group
Funded Research
* Principal Investigator of multi-center study
† Co-Investigator of multi-center study
‡Principal Investigator for single center study

Past
1. Catheter dressing† 3 M Healthcare 8/93 $143,000
2. Catheter dressing* Smith & Nephew 10/93 $6,000
3. Legionella Susc RW Johnson 4/94 $1,000
4. Catheter Study I Ohmeda 10/94 $3,000
5. Catheter Study II Ohmeda 1/95 $7,000
6. Catheter Study Ohmeda 6/95 $6,000
7. Treatment of Candiduria† Pfizer 3/95 $6,000
8. Biopatch Study Johnson & Johnson 6/96 $10,000
9. Gen. Research Support 3 M 4/96 $2,500
10. Catheter Study III Ohmeda 11/95 $7,000
11. Catheter Study* Ohmeda 12/96 $207,000
12. General Research Support 3 M 5/97 $5,000
13. VRE Activity of Taurolin Carter-Wallace 12/97 $78,000
14. Catheter Study IV Ohmeda 1/98 $6,500
15. Taurolin-Biolink Study I Biolink 12/98 $15,000
16. Biopatch Study† J&J 6/98 $378,000
17. Implemed Study† Implemed 5/99 $54,000
18. Taurolin-Biolink Study II Biolink 9/99 $18,000
19. C. difficile Study† Ophidian 11/99 $3,500
20. Arrowgard Study† Arrow Int 12/98 $157,000
21. Taurolin Study Carter-Wallace 4/99 $50,000
22. Taurolin IV Study Carter-Wallace 3/00 $78,000
23. S. aureus Study† Ortho-McNeil 4/00 $13,000
24. MBI Gel Study† Micrologix 11/00 $321,000
25. Taurolin Cath Study Carter-Wallace 2/01 $60,000
26. Quasar Study 3 M Healthcare 2/03 $36,000
27. Transparent Dressing Study* 3M 6/05 $13,000
28. TRAPE† JCAHO 6/03 $2,000
29. Antiseptic Foley Catheter Tyco 12/04 $386,000
30. Antimicrobial Catheter Study† Angiotech 6/06 $142,000
31. Use of Computer-Assisted Mgnt Program‡ Lifespan Risk Management 6/05 $50,000
32. MRSA Screening Study I* 3M 10/05 $122,000
32. MRSA Screening Study II* 3M 9/07 $170,000
Teaching Experience
BROWN UNIVERSITY TEACHING ROLES

BIO 307/Infectious Diseases, Course Leader (Rhode Island Hospital site), 1993-P

BIO 274/Pharmacology Group Independent Study Project, Lecturer, 1993-94
BIO 158/Medical Microbiology, Lecturer, 1993-94
BIO 158/Medical Microbiology, Small Group Leader, 2002-04
BIO 540/Community Health, Preceptor, 2005
IMS 282/Infectious Disease Pathophysiology, Lecturer, 1993-97
IMS 282 & 351/Infectious Disease Pathophysiology, Small Group Leader, 1991-99, 2001-05, 2007-10
IMS 282/Infectious Disease Pathophysiology, Co-Course Leader, 1991-93
IMS 282/Infectious Disease Pathophysiology, Course Leader, 1993-97
Faculty Development Workshop, Small Group Leader, 2006

OTHER UNIVERSITY TEACHING ROLES
Advanced Clinical Microbiology II Course, University of Rhode Island, Invited Lecturer, 1998

Public Health Practicum, Infectious Diseases Course, University of Rhode Island, Invited Lecturer, 1998

Visiting Professor, University of Wisconsin Hospital & Clinics, Lecturer Resident's Conference and, Infectious Disease Research Conference, 2001

Pharmacy Practice, University of Rhode Island School of Pharmacy, Advanced Infectious Disease/Pulmonary Course, Invited Lecturer, 2003

HOSPITAL TEACHING ROLES
Medicine in Action Program, Preceptor, 1994-P

Physical Diagnosis, Preceptor, 1993-1999, 2001-2002

Internal Medicine Ward, Teaching Attending Physician, 1994-2003, 2005, 2008

Infectious Disease Consult Service, Teaching Attending Physician,
1991-P

Resident's Noon Conference, Lecturer, 1991-P

Resident's Morning Report, Faculty Attendee 1991-2005

Critical Care, Hematology/Oncology Fellowships; Emergency Medicine, Pediatrics, Neurosurgery Residencies, Lecturer, 1997-P

National Youth Leadership Forum in Medicine, Lecturer, 2002